Elephants, Cats, and Ducks, Oh My! With Rowboat Watkins, Brendan Wenzel, and Sergio Ruzzier
Event: Elephants, Cats, and Ducks, Oh My! With Rowboat Watkins, Brendan Wenzel, and Sergio Ruzzier
When: Wednesday, May 3, 4:00pm
Where: The Odyssey
Pete with No Pants
Meet Pete.
Pete is gray. He's round. And he's not wearing any pants.
So Pete must be a boulder. Or is he a pigeon? Or a squirrel? Or a cloud?
Join Pete in his quest to answer the world's oldest question: Why do I have to wear pants? Wait, that's the second oldest. Born from the one-of-a-kind imagination of Rowboat Watkins, this hilarious book (the asides just beg to be read aloud) about finding out who you are features a satisfying and touching ending that will encourage young readers to be true to themselves as it reminds the adults in their lives to support them no matter what.
Rowboat Watkins is mostly a dad who likes to tell stories and draw. He lives with his family in Brooklyn, NY.
..................
They All Saw a Cat
"The cat walked through the world, with its whiskers, ears, and paws ..."
In this glorious celebration of observation, curiosity, and imagination, Brendan Wenzel shows us the many lives of one cat, and how perspective shapes what we see. When you see a cat, what do you see?
Brendan Wenzel is an author and illustrator with great affection for all things furred, feathered and scaly. His work has appeared internationally in magazines, animations and in several books. Brendan is a proud collaborator with many groups working to protect and conserve wild places and creatures.
..................
This is Not a Picture Book
In this quirky yet sweet picture book about the joy and power of reading, Duck learns that even books without pictures can be fun. While he and his friend Bug may struggle at first to decipher their book, they stick with it, and before long they discover that not only can they read it, but it deserves a place on the shelf with all their favorite picture books. Author-artist Sergio Ruzzier has created a fanciful tribute to books of all kinds. It includes both words AND pictures.
Sergio Ruzzier is a picture book author and illustrator.
He was born in Milan, Italy, in 1966, and began his career as an illustrator in 1986.
In 1995 he moved to New York City, where he's been creating pictures and stories for national and international magazines and book publishers.
Event date:
Wednesday, May 3, 2017 - 4:00pm
Event address:
The Odyssey Bookshop
9 College Street
South Hadley, MA 01075

$16.99
ISBN: 9781452144016
Availability: On Our Shelves Now
Published: Chronicle Books - May 2nd, 2017
---

$16.99
ISBN: 9781452129075
Availability: On Our Shelves Now
Published: Chronicle Books - May 3rd, 2016
---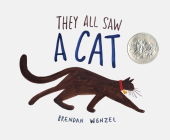 $16.99
ISBN: 9781452150130
Availability: On Our Shelves Now
Published: Chronicle Books - August 30th, 2016
---