Join us for a LIVE, IN-PERSON event on Saturday, November 20th at 1pm with Kristen Nordstrom, author of STEM picture book Mimic Makers: Biomimicry Inventors Inspired by Nature. She will be in conversation with Dr. Al Crosby and Dr. Duncan Irschick from the University of Massachusetts, Amherst, who are two of the ten real-life inventors featured in the book.
The event will take place in the community meeting room at SOUTH HADLEY PUBLIC LIBRARY.
Have a question about events? Email Robin at events@odysseybks.com.
---
About the Book
Nominated for the AAAS/Subaru Best Science Picture Book of 2022! Check it out.
"Young readers will be captivated by the contemporary inventors and inventions featured, and inspired to incorporate biomimicry into their own designs."
—Miranda Paul, author of One Plastic Bag and Water is Water

Who's the best teacher for scientists, engineers, AND designers? Mother nature, of course!

When an inventor is inspired by nature for a new creation, they are practicing something called biomimicry. Meet ten real-life scientists, engineers, and designers who imitate plants and animals to create amazing new technology. An engineer shapes the nose of his train like a kingfisher's beak. A scientist models her solar cell on the mighty leaf. Discover how we copy nature's good ideas to solve real-world problems!

"Mimic Makers reveals marvels of engineering inspired by nature with images that invite careful observation and explanations that are expressive, but never over simplified."
—Kim Parfitt, AP Biology and Environmental Science teacher, curriculum developer for Howard Hughes Medical Institute Biointeractive, and recipient of the Presidential Award for Excellence in Science and Math Teaching.

"Amazing! . . . Love that the book features the scientists and inventors, and that there is a diverse set of them.
—Janine Benyus, co-founder of the Biomimicry Institute
---
About the Author
Kristen Nordstrom is a full-time teacher at a STEAM Academy teaching biomimicry and other science topics. This Title One, public elementary school was started by a group of dedicated teachers and one amazing principal, to bring the power of hands-on science to second language learners and socio-economically challenged students. Kristen is a member of NSTA and Mimic Makers is her first book.
About the Inventors
Dr. Alfred J. Crosby, PhD is a professor in the polymer science and engineering department at the University of Massachusetts Amherst, co-inventor of Geckskin.
Dr. Duncan J. Irschick, PhD is an integrative biologist and innovator specializing in animal athletics, professor in the biology department at the University of Massachusetts Amherst, co-inventor of Geckskin and Beastcam.
---
Register
This event is free and open to everyone. To register, click here.
Event date:
Saturday, November 20, 2021 - 1:00pm
Event address:
South Hadley Library
2 Canal St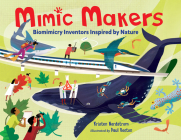 $17.99

ISBN: 9781580899475
Availability: On Our Shelves Now
Published: Charlesbridge - July 13th, 2021
---